Our Professionals
Grace Morin
B.A. (Special) LL.B (Certified Mediator)

Grace obtained her Bachelor of Arts degree from the University of Alberta and her Law degree in 1986 from Dalhousie Law School in Halifax, Nova Scotia. She was called to the British Columbia Bar in 1988. From 1988 to 2000, Grace was a civil litigation lawyer focusing on motor vehicle cases, family law and contested estates. Now, in addition to working alongside Ron in Real Estate Law, Grace's practice specializes in non-litigious conflict resolution. She works with her clients to resolve matrimonial and estate conflicts by way of the traditional negotiation process and through the increasingly popular practices of collaborative family law and mediation. Grace also helps her clients to avoid future conflicts through careful Estate Planning and Matrimonial Agreements. Grace provides professional executor services to her clients. Grace has been an active contributor to her community through the Semiahmoo Rotary Club, University Women's Club, the Ocean Park Community Association, and she has been an executive member of the Collaborative Association of the Lower Mainland for the past 10 years. Grace speaks Polish fluently and can provide non-litigious legal assistance in Polish.
Ron Morin
B.A. (Honours), B.ED., LL.B.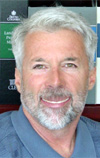 Ron obtained his Bachelor of Arts from Acadia University in Nova Scotia and his Law degree in 1984 from Dalhousie Law School. Ron was called to the Nova Scotia Bar in 1985 and the British Columbia Bar in 1987. Ron's practice focuses on the areas of Business and Corporate Law and on Real Estate Law including buying, selling, mortgaging and developing property. Ron has been an active contributor to his community through the Big Brothers Association of British Columbia as a Big Brother and in his role as a Coach for White Rock/South Surrey Baseball, Titans Football and Elgin Park Secondary Basketball. Ron held the position of  past President for both the Ocean Park Community Association and the Ocean Park Business Association and he has been involved with the White Rock Kiwanis Club in past years. Ron was the founder of the Real Estate Lawyers and Notaries Association of B.C. (RELAN). He also obtained his teaching degree from the University of British Columbia in 2002.
Our Legal Assistants
Monique Renwick

Monique has over 26 years experience as a legal secretary and conveyancer. She acheived her Conveyance Legal Assistant Certificate in 1994, while working as a conveyancer and foreclosures legal assistant in Vancouver. She has been working in the White Rock/South Surrey legal community for the past fifteen years. Monique joined MLC Lawyer's conveyance team in 2006. Monique lives in Surrey with her husband and two daughters.
Jules Goodman

Jules joined MLC Lawyers in the Fall of 2014. She brings over 15 years of conveyancing and legal secretary experience to the firm. Jules and her husband reside in South Surrey and have four children: a happy result of their blended family. Among the many family-oriented activities, Jules most enjoys travelling and spending time on the water boating.
Kimberlea Murphy
Kimberlea joined MLC Lawyers in 2015 as the Front Office Coordinator. She brings to the firm over 20 years of office, management and administrative skills and experience.  Kimberlea's strong organizational and communication skill-set ensure client's are in good hands from the first moment they begin working with MLC Lawyers. Kimberlea resides with her two children in the White Rock/South Surrey area. She keeps herself active in the community and has coached local baseball for several years.  She also enjoys travelling, camping and the Arts.
Cheryl Lynn Anslow

Cheryl Lynn has 36 years of experience as a office administrator and bookkeeper in several industries including retail, non-profit and finance just to name a few. She has worked with MLC Lawyers since 2004 and has lived in White Rock for over 20 years. Cheryl Lynn is both University and College educated in the areas of Business Administration and Marketing Management. Cheryl Lynn and her partner Michael enjoy boating, travel and the antics of their two adopted Maine Coon cats Ashlee and Amber.
Julie Nixon

Julie brings over 30 years of experience as a legal assistant to MLC Lawyers. She joined the firm in 2008 to work exclusively with Grace Morin in her Family and Estate Law practice.  Julie is a long time resident of the Lower Mainland and she and her husband have a passion for boating and travel.